Earthquake
The shaking or jerking motion of the earth surface vertically or horizontally is called an earthquake. The Hypocenter is the point inside the earth where the earthquake originates. The Epicenter is the point on the earth surface that is vertically above the hypocenter.
The seismic waves are the ways or the vibration traveled in a different direction from the epicenter. A seismograph is an instrument that measures the intensity, origin and speed of the earthquake. The intensity of an earthquake is measured in Richter scale.
Causes of earthquake:
The adjustment of the continental plates inside the earth by colliding causes tremor at the hypocenter.
A volcanic eruption.
Large deposition of soil by the rivers causes huge pressure on the earth.
Underground bombs testing.
Effects of earthquake:
Destruction of the building, roads, electricity supply, etc.
Affects on human and animal lives.
Causes landslides and mudslides.
Cracking the earth's crust.
Formation of the lake, small hills etc.
Tsunami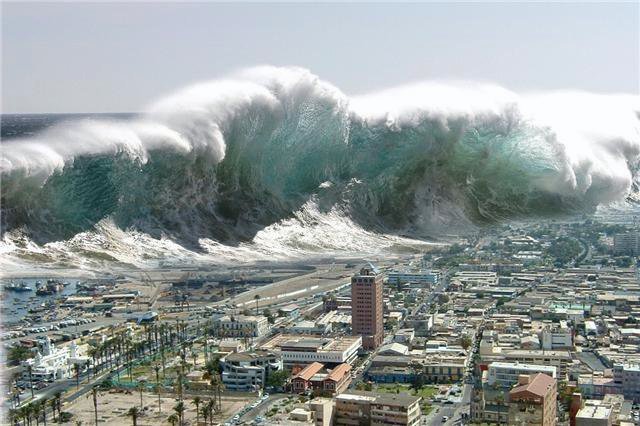 A tsunami is a series of water waves caused by the displacement of a large volume of a body of water, usually a sea or ocean. Tsunamis are often barely visible when they are in the deep sea. This makes tsunami detection in the deep sea very difficult. A tsunami can travel at well over 970 kph (600 mph) in the open ocean. A tsunami may be less than a foot (30 centimeters) in height on the surface of the open ocean. But the powerful shockwave of energy travels rapidly through the ocean as fast as a commercial jet. Once a tsunami reaches shallow water near the coast, it is slowed down. The top of the wave moves faster than the bottom, causing the sea to rise dramatically.
Causes of Tsunami:
Earthquake
Volcanic Eruption
Underwater Explosions
Meteorite Impacts
Effects of Tsunami:
Flooding
Devastating of property.
Loss of lives
Basic infrastructures destruction.